With new apps and services, IT connects deskless workers to biz
Messaging apps and mobile services from companies like Zinc and Crew are springing up to help connect workers not bound to a desk with colleagues in the office.
Office-based employees have a wealth of software tools available to keep them connected with colleagues and the wider business. Even those working remotely can easily stay in touch with their team through email, enterprise social networks and group messaging tools such as Slack.
That's not always the case for deskless workers – the vast, yet underserved chunk of the workforce that tends to fall outside the scope of IT, according to Stacey Epstein, CEO of enterprise messaging app vendor Zinc.
Zinc specifically targets employees in non-office-based roles. They could be anything from emergency workers to construction laborers, nurses, retail workers or service technicians – employees who usually own a smartphone but don't routinely require access to core business applications.
Zinc
An illustration shows several devices running Zinc's communication software.
"Deskless workers are doing their job by fixing something in the field, or helping a customer at a hotel desk or a retail store, or if they are in healthcare they are seeing a patient," said Epstein. "They are not sitting in front of a computer or an office where they can hop into a conference room or even have an impromptu team or group meeting.
"So these workers are inherently siloed from the people and the knowledge that help them do a good job," she said.
Deskless workers have different technology requirements than typical office workers, said 451 Research senior analyst Raul Castañón-Martínez. They don't use a computer as their main device to do their job and communications are often sent via text, or consumer apps such as WhatsApp.
They're "workers that not tied to a specific location," said Castañón-Martínez. "Some examples are in the hospitality industry, hotels, or workers at a restaurant. So, more than anything it is the workers that IT usually does not think of provisioning with an email, for example."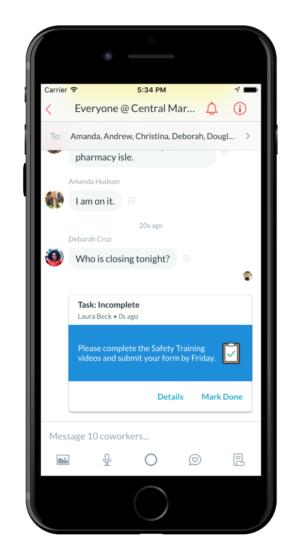 Crew
Crew users can assign tasks for team members or individuals, whether it be on a one-gtime basis or routine matters such as turning in time cards.
Zinc argues that it can provide deskless workers with a messaging platform they will actually use, while also giving IT staffers admin controls and providing execs insights into operations and a better way to communicate with front-line employees.
The company – formerly known as Cotap – is not the only company targeting non-office-based roles. Crew, which launched in May after operating in stealth mode for two years, is taking the same approach. Both offer apps designed to make it easier for teams to communicate, focusing on core functions required by deskless workers. This includes text, voice and video messaging, one-click calling, video conferencing and file-sharing.